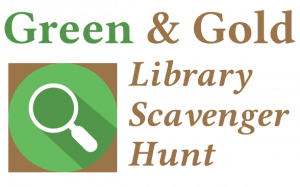 Complete the hunt to win a free drink at Greenberry's, and for a chance at the Grand Prize of a $75 Amazon Gift Card!
You will learn more about the people and services in the library – explore, discover, and become a library expert.
Hunt whenever the library is open
First-year, sophomore and new transfer students only
Instructions and answer sheets are available at the Checkout Desk (1st floor)
Hunt at your own pace; we estimate it takes 25-30 minutes to find all the clues
Have fun hunting as a group – but make sure everyone turns in their own answer sheet.
If you have an accommodations need, we are here to help! Please contact Maryke Barber at mbarber@hollins.edu .