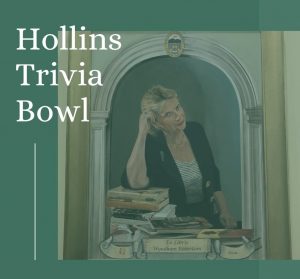 Join the Trivia Bowl here.
Trivia night, HU style! Test your knowledge about Hollins in this HU-themed online Trivia Bowl. Some of the questions/answers will be directly from the scavenger hunt, so that scavenger hunt participants will have an advantage in the trivia bowl…
Open to all HU community members. Only students are eligible for:
Prizes! The student winner of each round receives a $50 gift card from the Hollins Store, and the grand prize winner of the bowl wins a $60 gift card! Note that you can only win one round, but all students are eligible for the Grand Prize.
---
• Preregistration: not required.