Online Faculty
Please contact your liaison librarian for assistance with electronic reserve requests, new item purchase requests and more
Accessing Library Materials – Summer 2021
Although building is closed this summer, you can still borrow books and films from the library using our contactless pick-up system! Request materials by signing in to OneSearch, locating the item(s) you want, and using the "Request" button. (The is the same way you request material from Roanoke College.) Requested items will be pulled within 24 hours (Mon-Fri) and users will receive an email in their Hollins account when the items are available to pick up.
Contactless pick-up is available from 11 am – 4 pm (Mon-Fri) at the accessible/elevator entrance to the Wyndham Robertson Library and users will be required to scan their Hollins ID to open the door. You item(s) will be in a brown bag with your name clearly written on the label. The rest of the building is closed. If you need to browse the collection, faculty are asked to contact their liaison librarian; staff and summer student employees/research fellows should email library@hollins.edu.
Questions? Please contact Karen Ryan, Circulation Coordinator (ryankj@hollins.edu), or Rebecca Seipp, Assistant University Librarian (seipprl@hollins.edu).
FAQ:
Who can request items for contactless pick-up this summer? Only faculty, staff, and students with permission to be on-campus this summer may request items.
Can I request items from Roanoke College? Yes, items from Roanoke College are still available via the "Request" button in OneSearch.
How will I know when items are ready to be picked-up? You will receive an email in your Hollins account with the subject line "Your Library Request Has Arrived".
Can I enter the building when I pick up my books? No, the building is closed for the summer. If you need to browse the collection, faculty should contact their liaison librarian; staff and summer student employees/research fellows should email library@hollins.edu.
Instruction
Working with the faculty, the library provides course-integrated research activities for students, including:
Class sessions
Individual and small group meetings
Active research assignments and logs
Contact your liaison librarian for customized research instruction, assignments and tours.
Reserves
The library will place books or films on Reserve for your classes; articles should be scanned and made available via Moodle. In-Library use only designation is available for personal copies. Please turn your materials in early enough to allow time for processing, and include a course syllabus with your first request.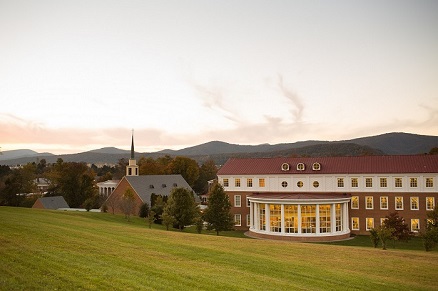 Request Materials for Purchase
Your Liaison Librarian can assist you in identifying titles in a specific research area; he or she can also provide you with regular updates about new publications in your field.
FLEX On-Campus Delivery/Pickup
The library offers on-campus delivery of our materials (books, films and articles) to faculty offices within 2 business days; pickup service is available as well.
Delivery: request by using the "Request" function in OneSearch (note: you must be logged in for "Request" to appear). Once requested, these items will automatically be delivered to you.
Pickup:  use the FLEX pickup form.
Contact for FLEX: Shawna Battle at 540-362-6239 or flex@hollins.edu.
OER
The Wyndham Robertson Library is dedicated to providing access to books and films for students of all socioeconomic backgrounds. As part of this work, the library is partnering with faculty to identify open educational resources and library-subscribed resources that may be used as required course materials, in place of traditional expensive textbooks.
Last updated: May 16, 2021 at 17:41 pm​